Facilities
Fuel
At present fuel is not available, however it is planned to supply fuel in the near future.
Mogas can be supplied from the nearest garage, which is approximately 800 Metres from the parking area. With adequate warning we will do our best to help in the collection of mogas.

Please see the news page for a request for assistance.


Food
Light meals and teas can be obtained from Castle Kennedy and Gardens, a very pleasant 15-20 minute walk from the airfield during the summer season, and open for weekends from early February. Again if possible we will assist with transport. The gardens are open from April -September, and at other times by appointment and further info can be found on www.castlekennedygardens.co.uk .
The garage in Castle Kennedy village has a Spar shop.


Aircraft
Cable tie down for up to seven aircraft has been provided next to the hangars, and a further three sets of concrete block tie downs are available.
Hangarage is available, for any aircraft owners that wish to base an aircraft at Castle Kennedy. 


Transport
Taxis can be obtained through McLean's Taxis in Stranraer on 01776 70 3343. If you intend to use a taxi, please mention it when getting PPR, to ensure the gates are opened. Please ask the taxi company to access the airfield from the New Luce road, through the gate at the end of the Hangars.
Police
For aircraft from the Republic of Ireland, Northern Ireland, and Isle of Man, contact the Ports Unit in Stranraer on 01776 704633, or by fax on 01776 704066. In emergency contact 07736087480.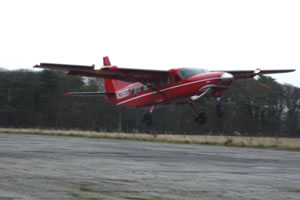 Feedback is always welcome, please contact through the contact us link.