Events
201
Castle KennedyAirfield

Fly In
All Day
Food and Refreshment from1000 -1600
Come and join the Seventh Fly In at South West Scotland's only Light Aviation Airfield.
Hot local food and discounted entry to Castle Kennedy Gardens only a twenty minute walk away.
All aircraft welcome. For further details, updates, PPR and briefing use website or ring 07774116424 / 01776702024
* Please scroll down to read the rules below...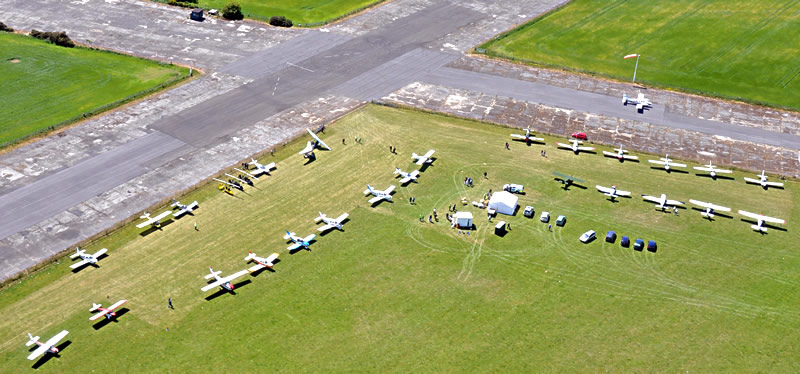 There is no radio frequency for Castle Kennedy. Safetycom (135.475) in use for blindcalls within the normal regulations. Please use blind calls from 10nm, 5nm, and normal circuit calls.
The only active runway is 08/26. Observe windsock and check other radio traffic for runway in use.
Please join circuit as described in Rules, but note that 08/26 is the only active runways.
Rule no.10 is superceded for this event, and all parking unless previously arranged will be on grass to the North East of the intersection. Marshallers will direct all aircraft to park. Aircraft requiring hard parking should indicate so when asking PPR.
Microlights and Gyroplanes should use the main 08/26 runway, land long, and be able to taxi off the runway before the intersection if landing on 26, and immediately after the intersection if using 08.
Some fuel may be available at Castle Kennedy, but only by prior arrangement.
Alterations to Plans will be shown on this page on the website. Please check before departure from home base.
Castle Kennedy is an ex WW2 airfield, and although great care is taken to remove loose stones no guarantee is given.
This event is not open to the public, unless by invitation, or PPR.
Please check the News page for other events that may affect use of the airfield.
Visitors who wish to use the reduced entry offer to the Gardens should ask for a hand stamp after arrival.
www.castlekennedyairfield.co.uk